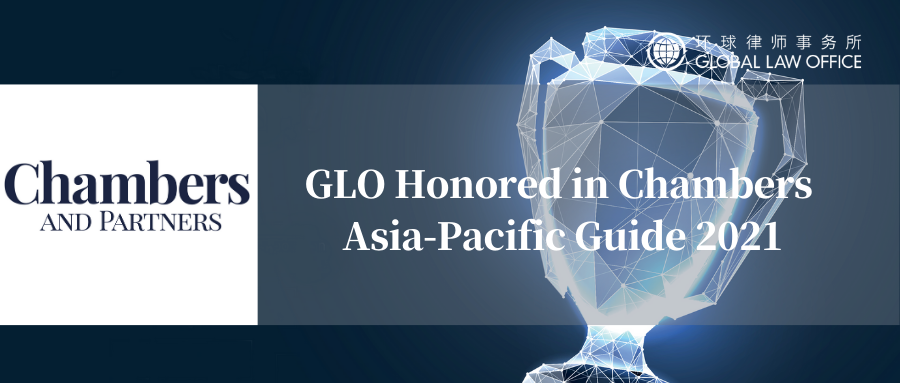 On December 15, 2020, the Chambers Asia-Pacific Guide 2021 was officially released. Global Law Office ("GLO") has achieved recognitions in 15 practices/sectors with 22 individuals being recommended in 29 practices.
This year, GLO has got 2 practices and 7 individuals recognised in Band 1. Compared with last year, rankings of "Intellectual Property: Litigation" and "Employment" have been upgraded, which indicates the growing recognition from the industry. Meanwhile, rankings of the individual lawyers have also been improved. Yifeng Gao has named as "Eminent Practitioner" for consecutive years. Jinrong Liu, Xiusong Xing, Lawrence Lin, Xin Zhang, Wen Li, Alan Zhou and Deming Zhao have been ranked in Band 1 as recommended lawyers in various practices/sectors respectively.
Our outstanding achievement remains a leading position on Chambers Asia-Pacific Guide. That's fully demonstrated our steady upward development trend, highlighted our professional strength as a large comprehensive law firm, and showcased our excellence of legal service in various practices and sectors.
At the same time, we would like to further express our sincere gratitude to our clients for their support and trust as always. Driven by the principle of "Clients First, Quality Foremost", GLO will constantly deliver exceptionally high-quality, "one-stop" services across a diverse set of practice areas for a comprehensive range of industries and sectors.
Ranked Practices/Sectors:
2 Practices in Band 1
Banking & Finance
Healthcare
13 Practices as Recommended
Capital Markets: Domestic Issuances
Capital Markets: Hong Kong and Overseas Issuances
Capital Markets: Securitisation & Derivatives
Corporate Investigations/Anti-Corruption
Corporate/M&A
Dispute Resolution
Investment Funds
Private Equity: Buyouts & Venture Capital Investment
Projects & Infrastructure
Technology, Media, Telecoms (TMT)
International Trade / WTO: Respondent
Intellectual Property: Litigation
Employment
22 Ranked Lawyers (29 Practices):
(In alphabetical order)
Banking & Finance
Lawrence Lin
May Liu
Xin Zhang
Capital Markets: Debt & Equity
Alex Liu
Cheng Li
Jinrong Liu
Capital Markets: Securities & Derivatives
Corporate Investigations / Anti-Corruption
Corporate / M & A
Dispute Resolution: Arbitration
Healthcare
Alan Zhou
Bojia Zhao
Michael Yu
Intellectual Property: Litigation
International Trade / WTO: Respondent
International Trade: Customs, Export Control & Economic Sanctions
Investment Funds
Private Equity: Buyouts & Venture Capital Investment
Projects & Infrastructure
Shipping Northern China
Technology, Media, Telecoms (TMT)
GLO has been committing to the mission of "serving domestic and foreign clients with globalized vision, globalized team and globalized quality" since its inception. Our lawyers have rich practice experience, exquisite professional technology, strong innovation and problem-solving ability, which can combine exquisite legal professional skills with rich business knowledge, as well as adopt pragmatic and constructive methods to solve legal problems. We also have leading professional innovation ability, good at creative design of transaction structure and details. All of the above factors allow us to always maintain leading position in the industry in the midst of ever-changing global economic environment.
Since its establishment in 1969, Chambers and Partners has provided the most professional legal rating standards in the field. Chambers investigates law firms worldwide and honors the top law firms and lawyers based on their clients' responses, surveys and market data. It is considered as one of the most trusted and authoritative references for global clients looking for high-end legal services.